Community College Pandemic Recovery: What Are the New Enrollment Numbers Showing?
Tia Monahan and Jeremy Cohen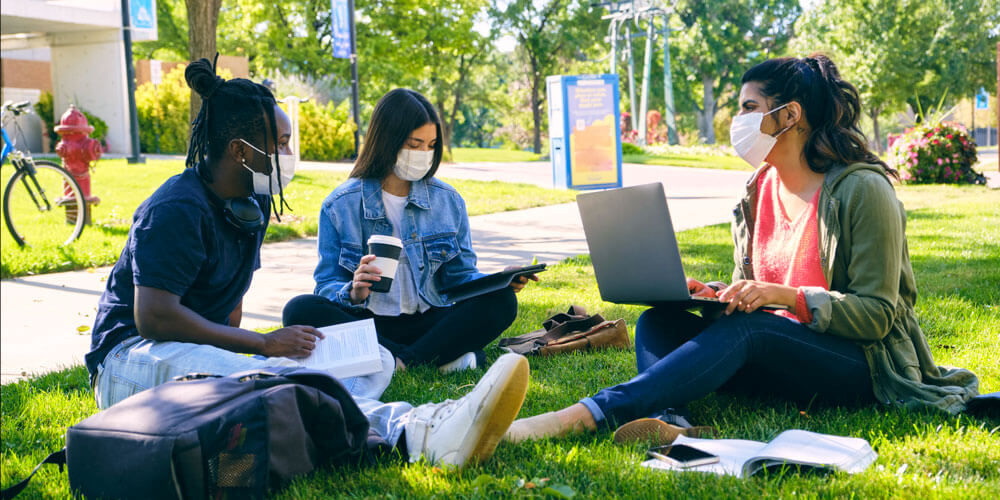 As the pandemic wanes and community colleges begin to find their new normal, the latest numbers from the National Student Clearinghouse Research Center indicate that enrollment is stabilizing. The new report shows national community college enrollment (defined here as public two-year enrollment) is up 16,700 students in fall 2022 (+0.4% from fall 2021), expanding enrollment for the first time since the start of COVID-19. This is welcome news, but are some parts of the country, student groups, and types of community college programs doing better than others?
The pandemic's effects have been felt differently across college types, states, programs, and students. For instance, enrollment is shifting toward more short-term certificate programs relative to associate degree programs. Programs in the health professions—occupations that were so critical throughout the pandemic—are losing enrollment, continuing a pre-pandemic trend. Men, whose enrollment numbers had been falling, are coming back to community colleges, while the number of women students is continuing to shrink. Additionally, the dual enrollment population (students under 18 years old) is growing, while adult student enrollment is still on the decline. So, while overall enrollment may be leveling out across community colleges, taking a closer look at key enrollment changes can give us some much-needed insight into how the pandemic may be reshaping the community college landscape. The data will inform the ARCC Network's research in eight states.
How are community colleges faring compared to other types of institutions?
Community colleges' enrollment growth in fall 2022 was above that of higher education as a whole in the United States, which saw enrollment largely stabilize, with a small decline of 0.6% (compared to undergraduate enrollment declines of 3.7% in fall 2020 and 3.5% in fall 2021). Community colleges are seeing their first enrollment growth since even before the pandemic, but it is not enough to turn around the longer term decline. Between 2018 and 2021, enrollment declined by 949,800 or 17.6%, with the vast majority of this decline coming since the pandemic's onset.
Comparatively, public four-year colleges experienced over twice the average national decline in undergraduate enrollment (-1.4%, -87,700) in fall 2022, while four-year private for-profit colleges showed much larger enrollment expansion (+5%, +28,900).
Does community college recovery look similar across the United States?
Total undergraduate enrollment across all types of colleges and universities was stable in the West (+0.5%) and the South (+0.2%) in fall 2022 while it continued to decline in the Midwest and Northeast. Comparatively, all regions were experiencing enrollment contractions at much larger rates in 2021. At the state level, we can also see differences in community college enrollment recovery. In public two-year colleges in ARCC Network project states, we saw growing enrollment in fall 2022 in California (+2%) and Florida (+0.8% including both two-year public colleges and primarily associate granting baccalaureate colleges), a stable trend in Virginia (-0.5%), and a decline in Tennessee (-1.8%). Some states are experiencing more volatile enrollment changes, even within the same region: In Maine, enrollment grew by 13.9%, while in New Hampshire it fell by 7.5%.
What type of credentials are community college students seeking?
The degrees and programs students are enrolling in have also changed throughout the pandemic. Enrollment of associate degree seekers decreased by 0.9% (-28,200) at community colleges in fall 2022, while students seeking certificates and enrolled in noncredit programs increased by 3.8% (+43,700). This shift suggests there are more students enrolling in vocational and technical programs that offer certificates rather than in programs that lead to an associate degree. In contrast, in the for-profit four-year sector, enrollment in both certificate/noncredit and associate degree programs increased in fall 2022, by 20.6% (+9,200) and 21% (+16,700) respectively.
What are community college students studying?
In line with the shift toward certificate and noncredit programs, some of the fastest growing fields among the top 20 most popular majors/programs of study at two-year colleges—both public and private—have a vocational or technical focus, including Construction Trades (+7.2%, +4,500), Personal and Culinary Services (+8%, +4,200), and Precision Production (+7.4%, +3,900). Computer and Information Sciences (CIS) also increased enrollment by 7.2% (+14,200), the largest increase in CIS in the past five years. Enrollment in Health Professions, on the other hand, declined by 4.5%. Liberal Arts, the highest enrollment major, has steadied with only a 0.1% decline in fall 2022 after declines of 11.7% and 9.1% in fall 2020 and fall 2021 respectively. However, Liberal Arts enrollment is still 19.8% (-356,400) below fall 2019 levels. Along with the declines in associate degree program enrollment noted above, declines in Liberal Arts, often a major for transfer-intending students, may affect the number of transfer students in the future.
How are today's community college students different from community college students prior to the pandemic?
In fall 2020, community college enrollment declines of men were more than twice as steep as those of women (men, -14.8%; women, -7%), but by fall 2021, women's enrollment was dropping faster than men's enrollment (men, -5.2%; women, -7.9%). In fall 2022, the enrollment of men grew for the first time since the pandemic began (+2.6%), while the enrollment of women continued to fall (-1.3%).
Enrollment trends for all races/ethnicities have steadied. However, Black, Native American, and White students were still experiencing enrollment declines in fall 2022, with White students showing the largest drop (-3.2%). Conversely, the community college Latinx population is showing growth rates of 3.5%; Latinx men accounted for most of this growth in fall 2022.
The age of students is also shifting, with community college students now younger than they were pre-pandemic. Dual enrollment students were the only age group that grew in fall 2022, growing 11.7% (+87,900). In contrast, traditionally aged college student enrollment steadied (+0.3%), while older student enrollment continued multi-year declines that began before the pandemic (-5%, -77,800 in fall 2022).
At the national level, the pandemic has affected who is going to community college as well as what they are studying. Additionally, the effects of the pandemic on community college enrollment vary across states and regions of the country. While understanding enrollment changes is critical to understanding how community colleges are recovering from the pandemic, a larger story is unfolding across the nation. Student priorities are changing, including which career pathways they choose, and these changes are being felt at the community college level. What will continue to shift, and how community colleges will respond, remains to be seen. As the ARCC Network project teams examine the intricacies of the pandemic's impact on community colleges and their students, we will gain a better understanding of the many different pictures of recovery.
Tia Monahan is a senior research assistant at the Community College Research Center and a PEAR fellow at Teachers College, Columbia University. Jeremy Cohen is a research associate at the National Student Clearinghouse Research Center.
Share