Student Supports: The Role of Social Safety-Net Programs in College Student Success
Many students struggling to meet their basic needs are eligible for safety-net programs, but may not be accessing them. Because colleges and universities already work with students on financial aid, they are well-situated to help connect students to safety-net benefits. However, data limitations have been an obstacle to assessing eligibility and then encouraging eligible students to apply and enroll. This project is linking data on college enrollment and outcomes, safety net participation, and FAFSA applications to estimate the number of California college students who participate in safety-net programs, such as CalFresh, and the number of students who are eligible but not participating in these programs. This research will also help shed light on the relationship between participating in safety-net programs and student outcomes, and will inform efforts to develop, pilot, and test strategies for using administrative data to improve outreach to potentially eligible students.
This project links more than a decade of data, including during the COVID-19 pandemic, from the California Student Aid Commission, the California Community Colleges Chancellor's Office, the University of California Office of the President, and the California Department of Social Services, to create the Student Supports database.
This project is supported by the Spencer Foundation and the Institute of Education Sciences, U.S. Department of Education, through Grant R305A220451 to The Regents of the University of California, Berkeley. For more information on the Student Supports project, visit the California Policy Lab's website. 
Lead Researchers
Jesse Rothstein is the Carmel P. Friesen Chair in Public Policy at UC Berkeley and the faculty director of the California Policy Lab's UC Berkeley site. Rothstein's research focuses on education policy and the labor market, with a focus on inequality of opportunity and outcomes. He can be reached at rothstein@berkeley.edu.
Johanna Lacoe is the research director of California Policy Lab's UC Berkeley site. She is a policy scholar with expertise in criminal and juvenile justice, education, employment, and housing. She can be reached at johanna.lacoe@berkeley.edu.
Publications
Stacie Long
2022-12-22T19:48:44+00:00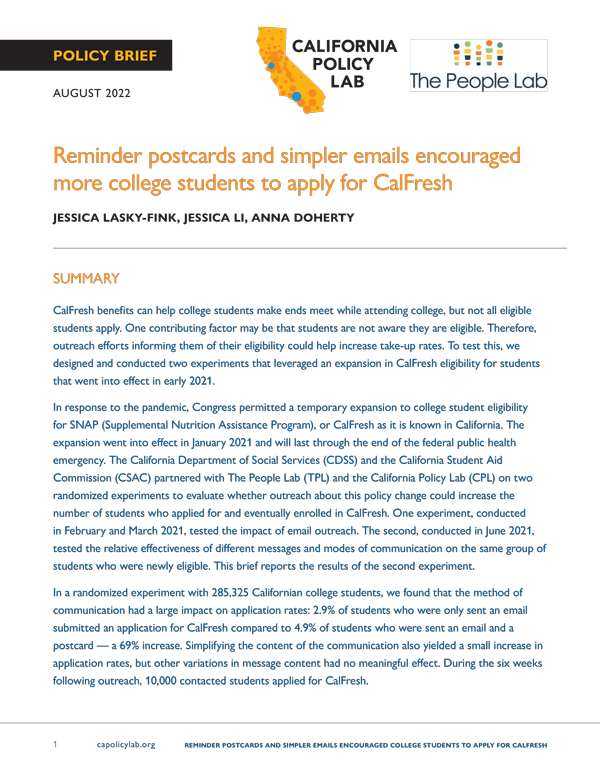 California Policy Lab | August 2022
This policy brief describes an experiment to test the relative effectiveness of different messages and modes of communication in increasing the number of students who applied for and eventually enrolled in CalFresh.