Community Colleges' Spending of Federal Recovery Funds
To provide a clearer picture of federal recovery funds received by community colleges, how much of those funds have been spent, and what proportion of funds were spent on institution and student needs, the Community College Research Center (CCRC) will analyze data from the U.S. Department of Education and all 50 states on the use of Higher Education Emergency Relief (HEER) Funds. The funds were appropriated through the Coronavirus Aid, Relief, and Economic Security Act (CARES Act), the Coronavirus Response and Relief Supplemental Appropriations Act (CRRSA Act), and the American Rescue Plan Act (ARP Act). The analysis—paired with the results of a survey of college relief spending—will inform pandemic recovery efforts and help policymakers plan for future public health or other emergencies.
Though the U.S. Department of Education's Education Stabilization Fund (ESF) transparency portal lists the amount of HEER Funds awarded to colleges and how much has been spent, it lacks detail on the spending, and the volume of information makes the website challenging to navigate.
CCRC is examining funding and spending patterns nationally and by institutional and student characteristics, including creating an easy-to-use data dashboard so policymakers, researchers, and others can understand how community colleges spent federal relief money, including what proportion went directly to students.
This project is supported by the Institute of Education Sciences, U.S. Department of Education, through Grant R305X220022 to Teachers College, Columbia University.
Lead Researchers
Hollie Daniels is a research associate at CCRC. Her research interests include students' college and career readiness, access, and success. She has a background in quantitative and qualitative research. She can be reached at hd2508@tc.edu.
Shayleah Jenkins
2023-06-14T19:05:33+00:00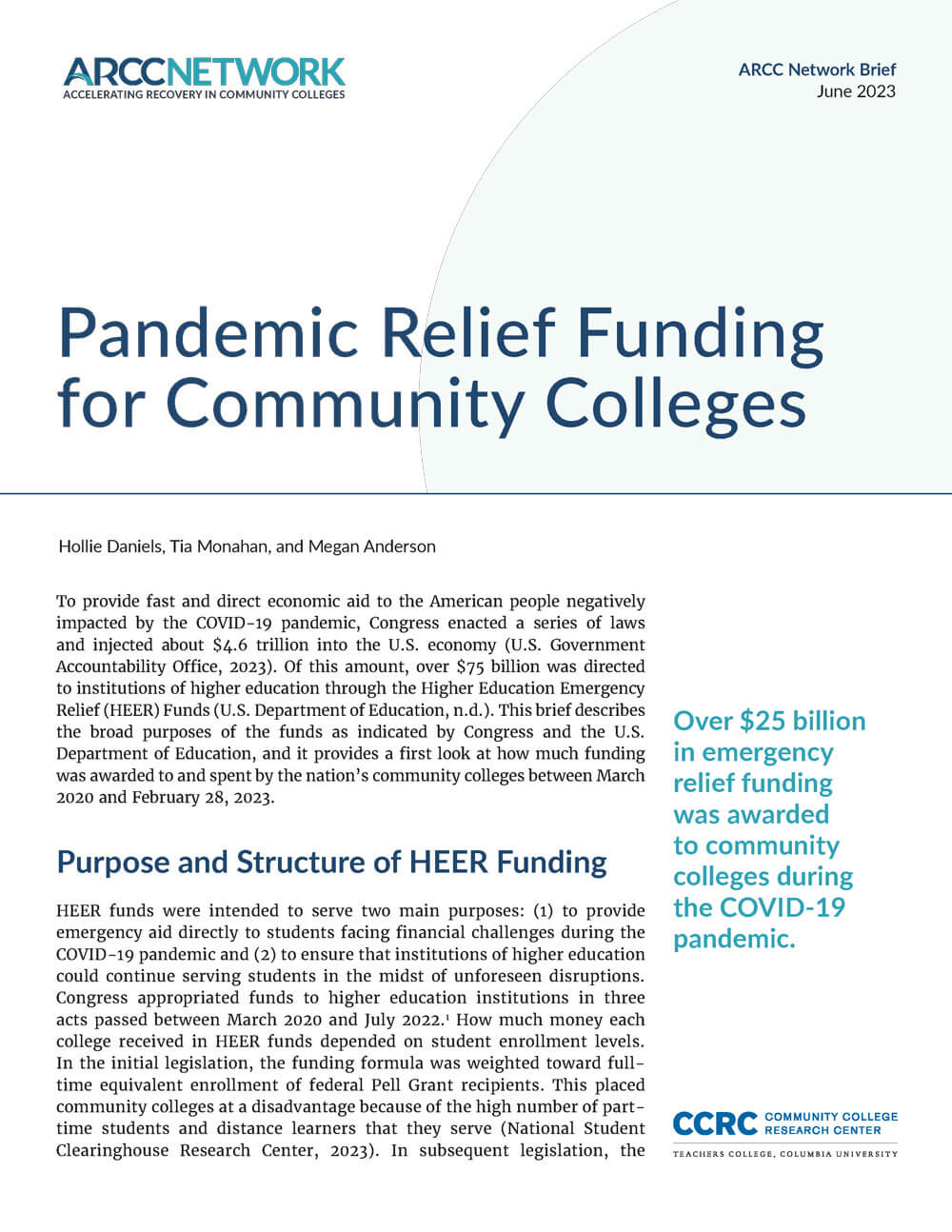 CCRC | June 2023
In response to the pandemic, over $75 billion of federal money was directed to institutions of higher education through the Higher Education Emergency Relief (HEER) Funds. This brief describes the broad purposes of the funds, and it provides a first look at how much funding was awarded to and spent by the nation's community colleges between March 2020 and February 2023.